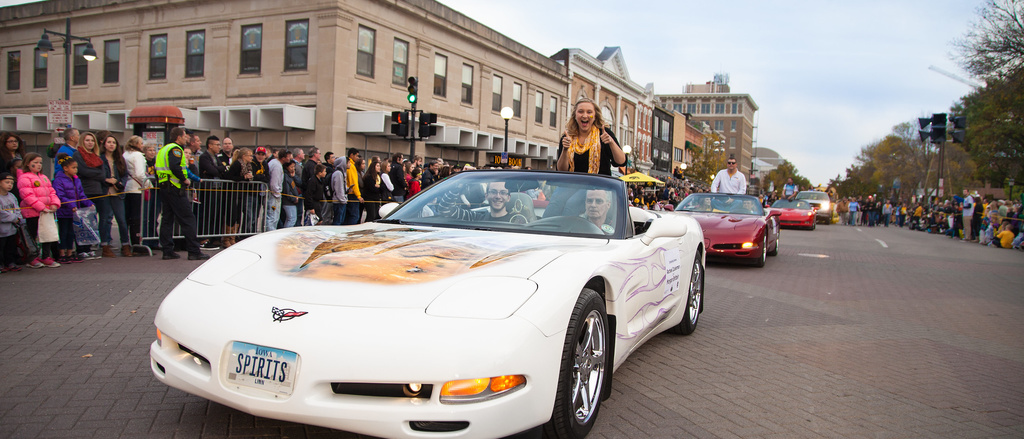 Learn more about the 2022 Homecoming Court throughout the week as we publish their stories on the Student Life News site.
Selection, Rules, Procedures, and Responsibilities
In order to be eligible for the 2022 Homecoming Royalty, a person must be enrolled as a full time student at the University of Iowa (currently enrolled in a minimum of 12 semester hours for undergraduate students, 9 semester hours for graduate students).
The applicant must have senior status (90 semester hours or more). Graduate students are more than welcome to apply.
Applicants must have a minimum cumulative grade point average of 3.00.
Applications must be submitted electronically by Friday, October 7th, 2022 at 11:59PM.
Applications will be reviewed by a panel of judges to determine selections for interviews. Applicants will be notified regarding an interview decision via email by the Morale Director. Interviews will be held online during the week of October 10th, 2022.
A panel of preliminary judges will review each application. The panel will consist of University of Iowa alumni. To ensure impartiality, the names of the judges will not be released until the interview.
Each preliminary judge will score the applications based on the following criteria:

Involvement in University activities and organizations.
Academic pursuits, interests, and achievements.
Demonstration of leadership skills and abilities.
Service to the community.
Thoughtfulness and skill shown in response to questions.
Enthusiasm and sincerity.

Scores given by all preliminary judges will be compiled and broken down as such: written responses = 80 points; recommendation form = 20 points.
The interview will consist of standard questions, which will be posed to all candidates. The questions will pertain to the criteria given to the preliminary judging. In addition, judges will be allowed to ask questions based on the candidate's responses and/or their applications.
The two students selected as Homecoming Royalty will receive monetary scholarships from the Emrich Homecoming Fund through the UI Center for Advancement. These scholarships will be credited to each students' UBill in January the Spring semester.
Court Responsibilities: Attendance at 2022 Homecoming events is required.
Executive Director Airiana Mohr and Morale Director Mitch Winterlin will provide a list of required events upon selection for Homecoming Court. If you have any questions please contact hoco-morale@uiowa.edu.