The Homecoming Parade is an annual tradition that unites students, alumni, faculty, staff, and community members across the Iowa City community.
Each year, we welcome Hawkeye Alumni back home to Iowa City to celebrate alongside more than 15,000 spectators that come from around the world to watch the parade. The Homecoming Parade is a time to celebrate being a Hawkeye! With fancy floats and guests of honor riding corvettes to student organizations, community organizations, & the University of Iowa Departments flaunting their Hawkeye spirit─ The Homecoming Parade is an event NO Hawkeye will want to miss!
Parade Details 
"Moving Tradition Forward"
5:45 pm on October 15, 2021
Downtown Iowa City (see route and map below)
Parade Route and Map
Starts at Washington and Gilbert
Continues on Clinton, Jefferson, Dubuque, and Iowa Avenue
Finishes at Iowa and Gilbert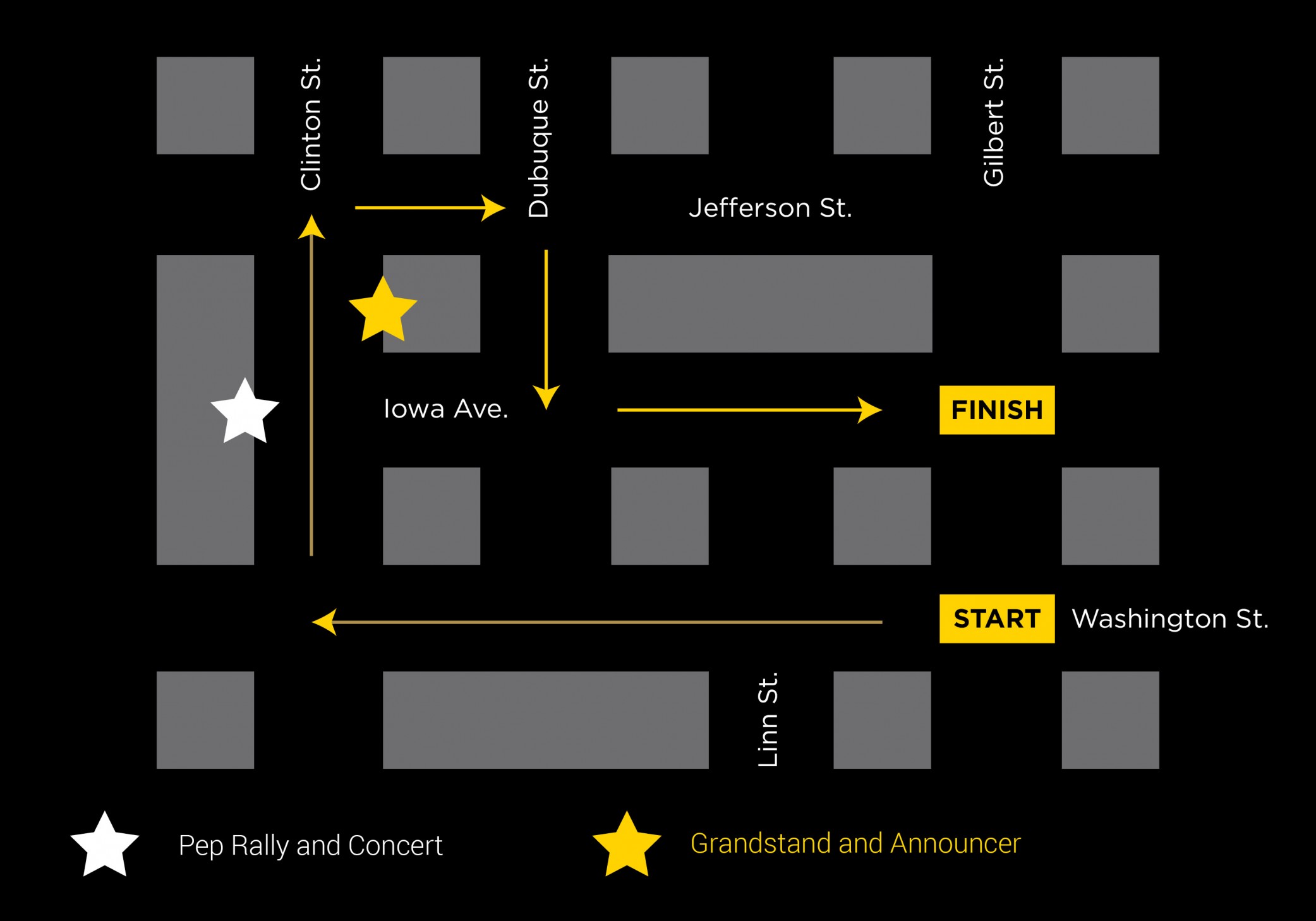 "Grab-N-Go" Participating Restaurants
Bo James
Aspen Leaf Frozen Yogurt
Tiki Tacos 'n Burgers 'n Wings
Players
Formosa
The Keto Kitchen
Get Fresh Cafe 
Parade Applications are now due September 27th, 2021 at 5:00 PM
Completely fill out the application form. Incomplete applications or applications without payment in full by the scheduled application deadline will not be processed.
Download Application
The following rules and guidelines are to be met by all entrants in the 2021 Homecoming Parade: Friday, October 15th, 2021. Any violation of these guidelines will result in forfeiture of participation in the parade.
Download Guidelines